About Us
Imrans Tandoori is a Indian takeaway in Blackburn. Why don't you try our Vindaloo or Jahangri?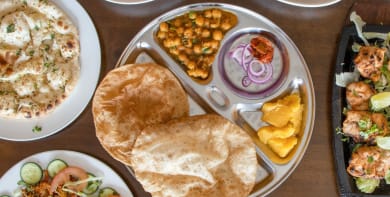 Reviews
75 reviews
Andy
"Great. Could just do with a bit more taste in the dishes."
26/04/2020
Paddy
"Best take away I've ever had I hope it is as good when I order again which I definitely will wow just wow"
24/04/2020
Scott
"Excellent..absolutely beautiful ☆☆☆☆☆"
22/04/2020
neil
"First time quick delivery. Nice curry sauce nice chicken nice rice"
18/04/2020
Menu
Chicken Kebab Starter (2)
Minced chicken croquettes
£2.30
Chicken Pakoras (5)
Spiced chicken pieces deep fried in chickpea batter
£2.10
Chicken Puri
Chicken cooked with onions, capsicum & spices served on a fried puffy bread
£3.00
Chicken Samosa
Crisp leaves of pastry filled with spiced minced chicken deep fried, served with chutney & salad
£2.10
Chicken Tandoori Leg Starter
Quarter chicken marinated on a bone
£2.80
Chicken Tikka Starter (5)
Succulent pieces of chicken breast marinated in yoghurt, herbs & spices cooked on a charcoal grill
£2.80
Imran`s Mixed Grill
Assortment of lamb chops, seekh kebabs, chicken tikka & chicken wings
£7.90
King Prawn Puri
King prawns cooked with onions, capsicum & spices served on a fried puffy bread
£3.20
Lamb Tikka Starter (5)
Succulent pieces of lamb marinated in yoghurt, herbs & spices cooked on a charcoal grill
£2.80
Meat Samosa (2)
Crisp leaves of pastry filled with spiced minced meat deep fried, served with chutney & salad
£2.10
Mixed Kebab Starter
Seekh kebab, shami kebab, meat samosa, onion bhaji, mushroom bhaji & chicken pakora
£3.90
Mushroom Bhaji (2)
Finely chopped onions & mushrooms mixed with herbs & spices & deep fried
£2.00
Pakoras (5)
Onions, sliced potatoes & spinach mixed with chickpeas flour & deep fried
£1.40
Mushroom Puri
Mushrooms cooked with onions, capsicum & spices served on a fried puffy bread
£2.90
Onion Bhaji (2)
Finely chopped onions mixed with herbs & spices & deep fried
£2.10
Prawn Cocktail
Prawns on a bed of crisp salad coated with seafood sauce
£2.90
Prawn Puri
Prawns cooked with onions, capsicum & spices served on a fried puffy bread
£3.00
Seekh Kebab Starter (2)
Minced lamb mixed with fresh herbs & spices cooked on a charcoal grill
£2.20
Shami Kebab Starter (2)
Minced meat croquettes
£2.20
Spring Rolls (3)
Crisp leaves of pastry filled with spiced mixed vegetable deep fried, served with chutney & salad
£2.10
Tandoori Lamb Chops (3)
Tender lamb chops marinated in yoghurt, fresh lime juice & fine spices cooked on a charcoal grill
£3.45
Vegetable Samosa (2)
Crisp leaves of pastry filled with spiced mixed vegetable deep fried, served with chutney & salad
£2.00
Saag Aloo
Spinach & potatoes cooked with light spices
£3.20
Mushroom Bhaji
Cooked with onions & capsicums, spices & herbs
£3.20
Mixed Vegetable Bhaji
Cooked with onions & capsicums, spices & herbs
£3.20
Daal
Lentils cooked with spicy sauce
£3.20
Fried Mushroom
Cooked with onions & capsicums, spices & herbs
£3.20
Bhindi Bhaji
Okra cooked with onions & capsicums, spices & herbs
£3.20
Bombay Potatoes
Spicy steamed potatoes cooked with onions & capsicums, spices & herbs
£3.20
Cauliflower Bhaji
Cooked with onions & capsicums, spices & herbs
£3.20
Fried Vegetable
Cooked with onions & capsicums, spices & herbs
£3.20
Rogan Josh Mixed Vegetable
Delivery Areas Feniscowles
£2.50
Delivery Areas Lower Darwen
£3.00
Delivery Areas Shadsworth
£2.50
Biryani Special
Cooked with basmati rice with herbs & spices
£6.80
Tandoori Lamb Chops (5)
Tender lamb chops marinated in yoghurt, fresh lime juice & fine spices cooked on a charcoal grill
£7.30
Mixed Grill
3 lamb chops, king prawn, seekh kebab, plain curry sauce, served with a naan bread
£7.20
Lamb Tikka Main
Lamb pieces marinated in yoghurt sauce cooked on a charcoal grill
£7.30
King Prawn Tikka Main
King prawns marinated in yoghurt sauce cooked on a charcoal grill
£8.00
Half Chicken
Young spring chicken served with plain curry sauce & pilau rice
£7.20
Chicken Tikka Main
Chicken pieces marinated in yoghurt sauce cooked on a charcoal grill
£7.30
Set Meal For 2 Persons
2 Poppadoms
Mango 
Onion 
Mint chutney
1 Chicken tandoori mixed curry (of your choice)
Pilau rice
Naan bread
2 Kebabs
2 Samosas
Side salad
£16.00
Set Meal For 3 Persons
3 Poppadoms
Mango 
Onion 
Mint chutney
2 Shami kebab
2 Meat samosa
3 Curries of your choice
2 Pilau rice
1 Naan bread
2 Chapatis
1 Chips
Side salad
£26.00
Set Meal For 4 Persons
4 Poppadoms
Mango 
Onion 
Mint chutney
2 Shami kebabs
2 Meat samosas
2 Seekh kebabs
4 Curries of your choice
2 Pilau rice
1 Naan bread
2 Chapatis
1 Chips
1 Boiled rice
Side salad
£32.00
Lamb Tikka Masala
Pieces of lamb marinated in yoghurt, herbs & spices cooked with masala sauce
£7.25
Chicken Tikka Masala
Pieces of chicken breast marinated in yoghurt, herbs & spices cooked with masala sauce
£7.25
King Prawn Tikka Masala
King prawns marinated in yoghurt, herbs & spices cooked with masala sauce
£7.90
Keema With Peas
Minced meat delicately spiced with garlic & ginger (optional peas)
£6.10
Keema Without Peas
Minced meat delicately spiced with garlic & ginger (optional peas)
£6.10
Karahi Chicken
Cooked in karahi, a delicately spiced sauce with garlic, ginger, onions & tomato
£6.30
Karahi Lamb
Cooked in karahi, a delicately spiced sauce with garlic, ginger, onions & tomato
£6.30
Kofta with Egg
Lamb meatballs cooked with egg in a delicately spiced sauce with garlic, ginger & tomato
£6.45
Lamb Chop Curry
Lamb chops cooked with chef`s special sauce
£6.80
King Prawn Special
Succulent king prawns marinated in yoghurt & selected spices & cooked in a masala sauce
£7.50
Lahori Chicken
Chef`s secret recipe
£6.60
Chef`s Special
A blend of all the chef`s specials cooked in chef`s special sauce
£6.80
Chicken Chana
Cooked with spinach OR chana in a delicately spiced sauce
£6.40
Chicken Palak
Cooked with spinach OR chana in a delicately spiced sauce
£6.40
Chicken Jalfrezi
Cooked with garlic, green chillies & onions in a spicy special sauce
£6.30
Batera
Batera (Quail) cooked with fresh onions, tomatoes, ginger, garlic & hot spices
Hot
£7.30
Chicken Tikka Special
Diced boneless chicken marinated in yoghurt & selected spices & cooked in a masala sauce
£7.15
Achar Chicken
Cooked in chef`s special sauce & mixed pickles
£6.60
Achar Lamb
Cooked in chef`s special sauce & mixed pickles
£6.60
Aloo Mattar
Potatoes & green peas cooked in chef`s special sauce
£5.40
Daal Gosht Gobi
Lamb cooked with spinach OR cauliflower in a delicately spiced sauce
£6.40
Daal Gosht Palak
Lamb cooked with spinach OR cauliflower in a delicately spiced sauce
£6.40
Paya
All cooked with special herbs & spices
£7.10
Saag Aloo
Spinach & potatoes cooked in chef`s special sauce
£5.40
Prawn Special
Succulent prawns marinated in yoghurt & selected spices & cooked in a masala sauce
£6.40
Tarka Daal
Lentils cooked in chef`s special sauce
£5.40
Saag Paneer
Spinach & Indian cheese cooked in chef`s special sauce
£5.40
Vegetable Special
Mixed vegetables cooked in chef`s special sauce
£5.40
Mixed Vegetable Pilau Rice
£2.70
Kashmiri Beef
Cooked with lychees & medium spices
Medium
£5.90
Kashmiri Cauliflower (V)
Cooked with lychees & medium spices
Medium
£5.40
Kashmiri Chicken
Cooked with lychees & medium spices
Medium
£5.90
Kashmiri Chicken Tikka
Cooked with lychees & medium spices
Medium
£7.15
Kashmiri Keema
Cooked with lychees & medium spices
Medium
£5.90
Kashmiri King Prawn
Cooked with lychees & medium spices
Medium
£7.35
Kashmiri Lamb
Cooked with lychees & medium spices
Medium
£5.90
Kashmiri Mixed
Cooked with lychees & medium spices
Medium
£6.15
Kashmiri Mixed Vegetable (V)
Cooked with lychees & medium spices
Medium
£5.40
Kashmiri Mushroom (V)
Cooked with lychees & medium spices
Medium
£5.40
Kashmiri Prawn
Cooked with lychees & medium spices
Medium
£6.35
Jalfrezi Beef
Cooked with garlic, green chillies & onions in a spicy special sauce
Hot
£5.90
Jalfrezi Cauliflower (V)
Cooked with garlic, green chillies & onions in a spicy special sauce
Hot
£5.40
Jalfrezi Chicken
Cooked with garlic, green chillies & onions in a spicy special sauce
Hot
£5.90
Jalfrezi Chicken Tikka
Cooked with garlic, green chillies & onions in a spicy special sauce
Hot
£7.15
Jalfrezi Keema
Cooked with garlic, green chillies & onions in a spicy special sauce
Hot
£5.90
Jalfrezi King Prawn
Cooked with garlic, green chillies & onions in a spicy special sauce
Hot
£7.35
Jalfrezi Lamb
Cooked with garlic, green chillies & onions in a spicy special sauce
Hot
£5.90
Jalfrezi Mixed
Cooked with garlic, green chillies & onions in a spicy special sauce
Hot
£6.15
Jalfrezi Mixed Vegetable (V)
Cooked with garlic, green chillies & onions in a spicy special sauce
Hot
£5.40
Jalfrezi Mushroom (V)
Cooked with garlic, green chillies & onions in a spicy special sauce
Hot
£5.40
Jalfrezi Prawn
Cooked with garlic, green chillies & onions in a spicy special sauce
Hot
£6.35
Jahangri Beef
Cooked with bamboo shoots & tomatoes
Medium
£5.90
Jahangri Cauliflower (V)
Cooked with bamboo shoots & tomatoes
Medium
£5.40
Jahangri Chicken
Cooked with bamboo shoots & tomatoes
Medium
£5.90
Jahangri Chicken Tikka
Cooked with bamboo shoots & tomatoes
Medium
£7.15
Jahangri Keema
Cooked with bamboo shoots & tomatoes
Medium
£5.90
Jahangri King Prawn
Cooked with bamboo shoots & tomatoes
Medium
£7.35
Jahangri Lamb
Cooked with bamboo shoots & tomatoes
Medium
£5.90
Jahangri Mixed
Cooked with bamboo shoots & tomatoes
Medium
£6.15
Jahangri Mixed Vegetable (V)
Cooked with bamboo shoots & tomatoes
Medium
£5.40
Jahangri Mushroom (V)
Cooked with bamboo shoots & tomatoes
Medium
£5.40
Jahangri Prawn
Cooked with bamboo shoots & tomatoes
Medium
£6.35
Korma Beef
Cooked with coconut & cream
Mild & creamy
£5.90
Korma Cauliflower (V)
Cooked with coconut & cream
Mild & creamy
£5.40
Korma Chicken
Cooked with coconut & cream
Mild & creamy
£5.90
Korma Chicken Tikka
Cooked with coconut & cream
Mild & creamy
£7.15
Korma Keema
Cooked with coconut & cream
Mild & creamy
£5.90
Korma King Prawn
Cooked with coconut & cream
Mild & creamy
£7.35
Korma Lamb
Cooked with coconut & cream
Mild & creamy
£5.90
Korma Mixed
Cooked with coconut & cream
Mild & creamy
£6.15
Korma Mixed Vegetable (V)
Cooked with coconut & cream
Mild & creamy
£5.40
Korma Mushroom (V)
Cooked with coconut & cream
Mild & creamy
£5.40
Korma Prawn
Cooked with coconut & cream
Mild & creamy
£6.35
Madras Beef
Cooked with fairly hot spices
Medium to hot
£5.90
Madras Cauliflower (V)
Cooked with fairly hot spices
Medium to hot
£5.40
Madras Chicken
Cooked with fairly hot spices
Medium to hot
£5.90
Madras Chicken Tikka
Cooked with fairly hot spices
Medium to hot
£7.15
Madras Keema
Cooked with fairly hot spices
Medium to hot
£5.90
Madras King Prawn
Cooked with fairly hot spices
Medium to hot
£7.35
Madras Lamb
Cooked with fairly hot spices
Medium to hot
£5.90
Madras Mixed
Cooked with fairly hot spices
Medium to hot
£6.15
Madras Mixed Vegetable (V)
Cooked with fairly hot spices
Medium to hot
£5.40
Madras Mushroom (V)
Cooked with fairly hot spices
Medium to hot
£5.40
Madras Prawn
Cooked with fairly hot spices
Medium to hot
£6.35
Malaya Beef
Cooked with bananas, coconut & cream
Mild to medium
£5.90
Malaya Cauliflower (V)
Cooked with bananas, coconut & cream
Mild to medium
£5.40
Malaya Chicken
Cooked with bananas, coconut & cream
Mild to medium
£5.90
Malaya Chicken Tikka
Cooked with bananas, coconut & cream
Mild to medium
£7.15
Malaya Keema
Cooked with bananas, coconut & cream
Mild to medium
£5.90
Malaya King Prawn
Cooked with bananas, coconut & cream
Mild to medium
£7.35
Malaya Lamb
Cooked with bananas, coconut & cream
Mild to medium
£5.90
Malaya Mixed
Cooked with bananas, coconut & cream
Mild to medium
£6.15
Malaya Mixed Vegetable (V)
Cooked with bananas, coconut & cream
Mild to medium
£5.40
Malaya Prawn
Cooked with bananas, coconut & cream
Mild to medium
£6.35
Bhuna Beef
Cooked with onions, capsicum, herbs & spices
Medium to hot
£5.90
Bhuna Cauliflower (V)
Cooked with onions, capsicum, herbs & spices
Medium to hot
£5.40
Bhuna Chicken
Cooked with onions, capsicum, herbs & spices
Medium to hot
£5.90
Bhuna Chicken Tikka
Cooked with onions, capsicum, herbs & spices
Medium to hot
£7.15
Bhuna Keema
Cooked with onions, capsicum, herbs & spices
Medium to hot
£5.90
Bhuna King Prawn
Cooked with onions, capsicum, herbs & spices
Medium to hot
£7.35
Bhuna Lamb
Cooked with onions, capsicum, herbs & spices
Medium to hot
£5.90
Bhuna Mixed
Cooked with onions, capsicum, herbs & spices
Medium to hot
£6.15
Bhuna Mixed Vegetable (V)
Cooked with onions, capsicum, herbs & spices
Medium to hot
£5.40
Bhuna Mushroom (V)
Cooked with onions, capsicum, herbs & spices
Medium to hot
£5.40
Bhuna Prawn
Cooked with onions, capsicum, herbs & spices
Medium to hot
£6.35
Balti Beef
Cooked in balti sauce with green capsicum & tomatoes
Medium to hot
£5.90
Balti Cauliflower (V)
Cooked in balti sauce with green capsicum & tomatoes
Medium to hot
£5.40
Balti Chicken
Cooked in balti sauce with green capsicum & tomatoes
Medium to hot
£5.90
Balti Chicken Tikka
Cooked in balti sauce with green capsicum & tomatoes
Medium to hot
£7.15
Balti Keema
Cooked in balti sauce with green capsicum & tomatoes
Medium to hot
£5.90
Balti King Prawn
Cooked in balti sauce with green capsicum & tomatoes
Medium to hot
£7.35
Balti Lamb
Cooked in balti sauce with green capsicum & tomatoes
Medium to hot
£5.90
Balti Mixed
Cooked in balti sauce with green capsicum & tomatoes
Medium to hot
£6.15
Balti Mixed Vegetable (V)
Cooked in balti sauce with green capsicum & tomatoes
Medium to hot
£5.40
Balti Mushroom (V)
Cooked in balti sauce with green capsicum & tomatoes
Medium to hot
£5.40
Balti Prawn
Cooked in balti sauce with green capsicum & tomatoes
Medium to hot
£6.35
Dansak Beef
Sweet & sour cooked with lentils & pineapples
Medium to hot
£5.90
Dansak Cauliflower (V)
Sweet & sour cooked with lentils & pineapples
Medium to hot
£5.40
Dansak Chicken
Sweet & sour cooked with lentils & pineapples
Medium to hot
£5.90
Dansak Chicken Tikka
Sweet & sour cooked with lentils & pineapples
Medium to hot
£7.15
Dansak Keema
Sweet & sour cooked with lentils & pineapples
Medium to hot
£5.90
Dansak King Prawn
Sweet & sour cooked with lentils & pineapples
Medium to hot
£7.35
Dansak Lamb
Sweet & sour cooked with lentils & pineapples
Medium to hot
£5.90
Dansak Mixed
Sweet & sour cooked with lentils & pineapples
Medium to hot
£6.15
Dansak Mixed Vegetable (V)
Sweet & sour cooked with lentils & pineapples
Medium to hot
£5.40
Dansak Mushroom (V)
Sweet & sour cooked with lentils & pineapples
Medium to hot
£5.40
Dansak Prawn
Sweet & sour cooked with lentils & pineapples
Medium to hot
£6.35
Dopiaza Beef
Cooked with roasted onions
Medium to hot
£5.90
Dopiaza Cauliflower (V)
Cooked with roasted onions
Medium to hot
£5.40
Dopiaza Chicken
Cooked with roasted onions
Medium to hot
£5.90
Dopiaza Chicken Tikka
Cooked with roasted onions
Medium to hot
£7.15
Dopiaza Keema
Cooked with roasted onions
Medium to hot
£5.90
Dopiaza King Prawn
Cooked with roasted onions
Medium to hot
£7.35
Dopiaza Lamb
Cooked with roasted onions
Medium to hot
£5.90
Dopiaza Mixed
Cooked with roasted onions
Medium to hot
£6.15
Dopiaza Mixed Vegetable (V)
Cooked with roasted onions
Medium to hot
£5.40
Dopiaza Mushroom (V)
Cooked with roasted onions
Medium to hot
£5.40
Dopiaza Prawn
Cooked with roasted onions
Medium to hot
£6.35
Curry Beef
Cooked with medium spices
Medium
£6.00
Curry Cauliflower (V)
Cooked with medium spices
Medium
£5.50
Curry Chicken
Cooked with medium spices
Medium
£6.00
Curry Chicken Tikka
Cooked with medium spices
Medium
£7.25
Curry Keema
Cooked with medium spices
Medium
£6.00
Curry King Prawn
Cooked with medium spices
Medium
£7.45
Curry Lamb
Cooked with medium spices
Medium
£6.00
Curry Mixed
Cooked with medium spices
Medium
£6.30
Curry Mixed Vegetable (V)
Cooked with medium spices
Medium
£5.50
Curry Mushroom (V)
Cooked with medium spices
Medium
£5.50
Curry Prawn
Cooked with medium spices
Medium
£6.50
Malaya Mushroom (V)
Cooked with bananas, coconut & cream
Mild to medium
£5.40
Mughlai Beef
Cooked with egg yolk, cream & mild to medium special sauce
Mild to medium
£5.90
Mughlai Cauliflower (V)
Cooked with egg yolk, cream & mild to medium special sauce
Mild to medium
£5.40
Mughlai Chicken
Cooked with egg yolk, cream & mild to medium special sauce
Mild to medium
£5.90
Mughlai Chicken Tikka
Cooked with egg yolk, cream & mild to medium special sauce
Mild to medium
£7.15
Mughlai Keema
Cooked with egg yolk, cream & mild to medium special sauce
Mild to medium
£5.90
Mughlai King Prawn
Cooked with egg yolk, cream & mild to medium special sauce
Mild to medium
£7.35
Mughlai Lamb
Cooked with egg yolk, cream & mild to medium special sauce
Mild to medium
£5.90
Mughlai Mixed
Cooked with egg yolk, cream & mild to medium special sauce
Mild to medium
£6.15
Mughlai Mixed Vegetable (V)
Cooked with egg yolk, cream & mild to medium special sauce
Mild to medium
£5.40
Mughlai Mushroom (V)
Cooked with egg yolk, cream & mild to medium special sauce
Mild to medium
£5.40
Mughlai Prawn
Cooked with egg yolk, cream & mild to medium special sauce
Mild to medium
£6.35
Pasanda Beef
A rich cream masala dish
Mild to medium
£5.90
Pasanda Cauliflower (V)
A rich cream masala dish
Mild to medium
£5.40
Pasanda Chicken
A rich cream masala dish
Mild to medium
£5.90
Pasanda Chicken Tikka
A rich cream masala dish
Mild to medium
£7.15
Pasanda Keema
A rich cream masala dish
Mild to medium
£5.90
Pasanda King Prawn
A rich cream masala dish
Mild to medium
£7.35
Pasanda Lamb
A rich cream masala dish
Mild to medium
£5.90
Pasanda Mixed
A rich cream masala dish
Mild to medium
£6.15
Pasanda Mixed Vegetable (V)
A rich cream masala dish
Mild to medium
£5.40
Pasanda Mushroom (V)
A rich cream masala dish
Mild to medium
£5.40
Pasanda Prawn
A rich cream masala dish
Mild to medium
£6.35
Samber Beef
Cooked with lentils & fresh lemons
Medium to hot
£5.90
Samber Cauliflower (V)
Cooked with lentils & fresh lemons
Medium to hot
£5.40
Samber Chicken
Cooked with lentils & fresh lemons
Medium to hot
£5.90
Samber Chicken Tikka
Cooked with lentils & fresh lemons
Medium to hot
£7.15
Samber Keema
Cooked with lentils & fresh lemons
Medium to hot
£5.90
Samber King Prawn
Cooked with lentils & fresh lemons
Medium to hot
£7.35
Samber Lamb
Cooked with lentils & fresh lemons
Medium to hot
£5.90
Samber Mixed
Cooked with lentils & fresh lemons
Medium to hot
£6.15
Samber Mixed Vegetable (V)
Cooked with lentils & fresh lemons
Medium to hot
£5.40
Samber Mushroom (V)
Cooked with lentils & fresh lemons
Medium to hot
£5.40
Samber Prawn
Cooked with lentils & fresh lemons
Medium to hot
£6.35
Rogan Josh Beef
A Northern Indian dish cooked with medium hot spicy sauce & garnished with onions & tomatoes
Medium
£5.90
Rogan Josh Cauliflower (V)
A Northern Indian dish cooked with medium hot spicy sauce & garnished with onions & tomatoes
Medium
£5.40
Rogan Josh Chicken
A Northern Indian dish cooked with medium hot spicy sauce & garnished with onions & tomatoes
Medium
£5.90
Rogan Josh Chicken Tikka
A Northern Indian dish cooked with medium hot spicy sauce & garnished with onions & tomatoes
Medium
£7.15
Rogan Josh Keema
A Northern Indian dish cooked with medium hot spicy sauce & garnished with onions & tomatoes
Medium
£5.90
Rogan Josh King Prawn
A Northern Indian dish cooked with medium hot spicy sauce & garnished with onions & tomatoes
Medium
£7.35
Rogan Josh Lamb
A Northern Indian dish cooked with medium hot spicy sauce & garnished with onions & tomatoes
Medium
£5.90
Rogan Josh Mixed
A Northern Indian dish cooked with medium hot spicy sauce & garnished with onions & tomatoes
Medium
£6.15
Rogan Josh Mixed Vegetable (V)
A Northern Indian dish cooked with medium hot spicy sauce & garnished with onions & tomatoes
Medium
£5.40
Rogan Josh Mushroom (V)
A Northern Indian dish cooked with medium hot spicy sauce & garnished with onions & tomatoes
Medium
£5.40
Rogan Josh Prawn
A Northern Indian dish cooked with medium hot spicy sauce & garnished with onions & tomatoes
Medium
£6.35
Vindaloo Beef
Cooked with very hot spices to give a sharp rich taste
Very hot
£5.90
Vindaloo Cauliflower (V)
Cooked with very hot spices to give a sharp rich taste
Very hot
£5.40
Vindaloo Chicken
Cooked with very hot spices to give a sharp rich taste
Very hot
£5.90
Vindaloo Chicken Tikka
Cooked with very hot spices to give a sharp rich taste
Very hot
£7.15
Vindaloo Keema
Cooked with very hot spices to give a sharp rich taste
Very hot
£5.90
Vindaloo King Prawn
Cooked with very hot spices to give a sharp rich taste
Very hot
£7.35
Vindaloo Lamb
Cooked with very hot spices to give a sharp rich taste
Very hot
£5.90
Vindaloo Mixed
Cooked with very hot spices to give a sharp rich taste
Very hot
£6.15
Vindaloo Mixed Vegetable (V)
Cooked with very hot spices to give a sharp rich taste
Very hot
£5.40
Vindaloo Mushroom (V)
Cooked with very hot spices to give a sharp rich taste
Very hot
£5.40
Vindaloo Prawn
Cooked with very hot spices to give a sharp rich taste
Very hot
£6.35
Contact Us
Find Us
73 Wensley Road, Blackburn, BB21QA
We deliver to
BB1, BB2, BB3