About Us
Imrans Tandoori is a Indian takeaway in Blackburn. Why don't you try our Vindaloo or Jahangri?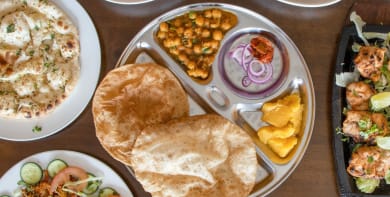 Reviews
80 reviews
Michael
"Always top top quality! Best curry in blackburn"
10/04/2021
Grant
"Food was fantastic, the shami kebabs are unbelievable. Food came quick, and was piping hot."
05/04/2021
Aaron
"First time ordering absolute spot on chicken tikka and chips was best I've had. And those pineapple friiters ice cream were next level for the midnight munchies. Gotta give these guys a try"
21/03/2021
Adnaan
"Food was great"
15/03/2021
Menu
Chicken Kebab (2)
Minced chicken croquettes
£2.35
Chicken Pakoras (5)
Spiced chicken pieces deep fried in chickpea batter
£2.20
Chicken Puri
Chicken cooked with onions, capsicum & spices served on a fried puffy bread
£3.25
Chicken Samosa
Crisp leaves of pastry filled with spiced minced chicken deep fried, served with chutney & salad
£2.20
Chicken Tandoori Leg
Quarter chicken marinated on a bone
£3.00
Chicken Tikka Starter (5)
Succulent pieces of chicken breast marinated in yoghurt, herbs & spices cooked on a charcoal grill
£3.00
Imrans Mixed Grill
Assortment of lamb chops, seekh kebabs, chicken tikka & chicken wings
£8.45
King Prawn Puri
King prawns cooked with onions, capsicum & spices served on a fried puffy bread
£3.50
Lamb Tikka Starter (5)
Succulent pieces of lamb marinated in yoghurt, herbs & spices cooked on a charcoal grill
£3.00
Meat Samosa (2)
Crisp leaves of pastry filled with spiced minced meat deep fried, served with chutney & salad
£2.20
Mixed Kebab
Seekh kebab, shami kebab, meat samosa, onion bhaji, mushroom bhaji & chicken pakora
£4.00
Mushroom Bhaji (2)
Finely chopped onions & mushrooms mixed with herbs & spices & deep fried
£2.20
Pakoras (5)
Onions, sliced potatoes & spinach mixed with chickpeas flour & deep fried
£1.50
Mushroom Puri
Mushrooms cooked with onions, capsicum & spices served on a fried puffy bread
£3.00
Onion Bhaji (2)
Finely chopped onions mixed with herbs & spices & deep fried
£2.20
Prawn Cocktail
Prawns on a bed of crisp salad coated with seafood sauce
£3.00
Prawn Puri
Prawns cooked with onions, capsicum & spices served on a fried puffy bread
£3.25
Seekh Kebab (2)
Minced lamb mixed with fresh herbs & spices cooked on a charcoal grill
£2.20
Shami Kebab (2)
Minced meat croquettes
£2.30
Spring Rolls (3)
Crisp leaves of pastry filled with spiced mixed vegetable deep fried, served with chutney & salad
£2.20
Tandoori Lamb Chops (3)
Tender lamb chops marinated in yoghurt, fresh lime juice & fine spices cooked on a charcoal grill
£4.50
Vegetable Samosa (2)
Crisp leaves of pastry filled with spiced mixed vegetable deep fried, served with chutney & salad
£2.10
Saag Aloo
Spinach & potatoes cooked with light spices
£3.50
Mushroom Bhaji
Cooked with onions & capsicums, spices & herbs
£3.50
Mixed Vegetable Bhaji
Cooked with onions & capsicums, spices & herbs
£3.50
Daal
Lentils cooked with spicy sauce
£3.50
Fried Mushrooms
Cooked with onions & capsicums, spices & herbs
£3.50
Bhindi Bhaji
Okra cooked with onions & capsicums, spices & herbs
£3.50
Bombay Potatoes
Spicy steamed potatoes cooked with onions & capsicums, spices & herbs
£3.50
Cauliflower Bhaji
Cooked with onions & capsicums, spices & herbs
£3.50
Fried Vegetables
Cooked with onions & capsicums, spices & herbs
£3.50
Biryani Special
Cooked with basmati rice with herbs & spices
£7.50
Keema With Peas
Minced meat delicately spiced with garlic & ginger (optional peas)
£6.50
Keema Without Peas
Minced meat delicately spiced with garlic & ginger (optional peas)
£6.50
Karahi Chicken
Cooked in karahi, a delicately spiced sauce with garlic, ginger, onions & tomato
£6.60
Karahi Lamb
Cooked in karahi, a delicately spiced sauce with garlic, ginger, onions & tomato
£6.45
Kofta with Egg
Lamb meatballs cooked with egg in a delicately spiced sauce with garlic, ginger & tomato
£6.70
Lamb Chop Curry
Lamb chops cooked with chef`s special sauce
£6.95
King Prawn Special
Succulent king prawns marinated in yoghurt & selected spices & cooked in a masala sauce
£8.00
Lahori Chicken
Chef`s secret recipe
£7.50
Chef`s Special
A blend of all the chef`s specials cooked in chef`s special sauce
£7.50
Chicken Chana
Cooked with spinach OR chana in a delicately spiced sauce
£6.60
Chicken Palak
Cooked with spinach OR chana in a delicately spiced sauce
£6.60
Chicken Jalfrezi
Cooked with garlic, green chillies & onions in a spicy special sauce
£6.60
Batera
Batera (Quail) cooked with fresh onions, tomatoes, ginger, garlic & hot spices
Hot
£7.30
Chicken Tikka Special
Diced boneless chicken marinated in yoghurt & selected spices & cooked in a masala sauce
£7.40
Achar Chicken
Cooked in chef`s special sauce & mixed pickles
£6.80
Achar Lamb
Cooked in chef`s special sauce & mixed pickles
£6.80
Aloo Mattar
Potatoes & green peas cooked in chef`s special sauce
£5.80
Daal Gosht Gobi
Lamb cooked with spinach OR cauliflower in a delicately spiced sauce
£6.75
Daal Gosht Palak
Lamb cooked with spinach OR cauliflower in a delicately spiced sauce
£6.75
Paya
All cooked with special herbs & spices
£7.50
Saag Aloo
Spinach & potatoes cooked in chef`s special sauce
£5.80
Prawn Special
Succulent prawns marinated in yoghurt & selected spices & cooked in a masala sauce
£6.80
Tarka Daal
Lentils cooked in chef`s special sauce
£5.80
Saag Paneer
Spinach & Indian cheese cooked in chef`s special sauce
£5.80
Vegetable Special
Mixed vegetables cooked in chef`s special sauce
£5.80
Rogan Josh Mixed Vegetable
Delivery Areas Feniscowles
£2.50
Delivery Areas Lower Darwen
£3.00
Delivery Areas Shadsworth
£2.50
Tandoor Lamb Chops (5)
Tender lamb chops marinated in yoghurt, fresh lime juice & fine spices cooked on a charcoal grill
£7.70
Mixed Grill
3 lamb chops, king prawn, seekh kebab, plain curry sauce, served with a naan bread
£7.50
Lamb Tikka
Lamb pieces marinated in yoghurt sauce cooked on a charcoal grill
£7.30
King Prawn Tikka
King prawns marinated in yoghurt sauce cooked on a charcoal grill
£8.40
Half Chicken
Young spring chicken served with plain curry sauce & pilau rice
£7.50
Chicken Tikka
Chicken pieces marinated in yoghurt sauce cooked on a charcoal grill
£7.30
Set Meal For 2 Persons
2 Poppadoms
Mango 
Onion 
Mint chutney
1 Chicken tandoori mixed curry (of your choice)
Pilau rice
Naan bread
2 Kebabs
2 Samosas
Side salad
£16.00
Set Meal For 3 Persons
3 Poppadoms
Mango 
Onion 
Mint chutney
2 Shami kebab
2 Meat samosa
3 Curries of your choice
2 Pilau rice
1 Naan bread
2 Chapatis
1 Chips
Side salad
£27.00
Set Meal For 4 Persons
4 Poppadoms
Mango 
Onion 
Mint chutney
2 Shami kebabs
2 Meat samosas
2 Seekh kebabs
4 Curries of your choice
2 Pilau rice
1 Naan bread
2 Chapatis
1 Chips
1 Boiled rice
Side salad
£33.00
Tikka Masalas Chicken
Pieces of lamb marinated in yoghurt, herbs & spices cooked with masala sauce
£7.30
Tikka Masalas Lamb
Pieces of lamb marinated in yoghurt, herbs & spices cooked with masala sauce
£7.30
Tikka Masalas King Prawn
Pieces of lamb marinated in yoghurt, herbs & spices cooked with masala sauce
£8.00
Soft Drinks Coca-Cola 0.33L
£1.00
Soft Drinks Diet Coca-Cola 0.33L
£1.00
Soft Drinks Irn Bru 0.33L
£1.00
Pilau Rice Mixed Vegetable
£6.00
Curry Chicken
Cooked with medium spices
Medium
£6.20
Curry Lamb
Cooked with medium spices
Medium
£6.20
Curry Beef
Cooked with medium spices
Medium
£6.20
Curry Keema
Cooked with medium spices
Medium
£6.20
Curry Prawn
Cooked with medium spices
Medium
£6.80
Curry King Prawn
Cooked with medium spices
Medium
£8.00
Curry Mixed Vegetable
Cooked with medium spices
Medium
£5.70
Curry Mushroom
Cooked with medium spices
Medium
£5.70
Curry Cauliflower
Cooked with medium spices
Medium
£5.70
Curry Mixed
Cooked with medium spices
Medium
£6.50
Curry Chicken Tikka
Cooked with medium spices
Medium
£7.50
Korma Chicken
Cooked with coconut & cream
Mild & creamy
£6.20
Korma Lamb
Cooked with coconut & cream
Mild & creamy
£6.20
Korma Beef
Cooked with coconut & cream
Mild & creamy
£6.20
Korma Keema
Cooked with coconut & cream
Mild & creamy
£6.20
Korma Prawn
Cooked with coconut & cream
Mild & creamy
£6.80
Korma King Prawn
Cooked with coconut & cream
Mild & creamy
£8.00
Korma Mixed Vegetable
Cooked with coconut & cream
Mild & creamy
£5.70
Korma Mushroom
Cooked with coconut & cream
Mild & creamy
£5.70
Korma Cauliflower
Cooked with coconut & cream
Mild & creamy
£5.70
Korma Mixed
Cooked with coconut & cream
Mild & creamy
£6.50
Korma Chicken Tikka
Cooked with coconut & cream
Mild & creamy
£7.50
Dansak Chicken
Sweet & sour cooked with lentils & pineapples
Medium to hot
£6.20
Dansak Lamb
Sweet & sour cooked with lentils & pineapples
Medium to hot
£6.20
Dansak Beef
Sweet & sour cooked with lentils & pineapples
Medium to hot
£6.20
Dansak Keema
Sweet & sour cooked with lentils & pineapples
Medium to hot
£6.20
Dansak Prawn
Sweet & sour cooked with lentils & pineapples
Medium to hot
£6.80
Dansak King Prawn
Sweet & sour cooked with lentils & pineapples
Medium to hot
£8.00
Dansak Mixed Vegetable
Sweet & sour cooked with lentils & pineapples
Medium to hot
£5.70
Dansak Mushroom
Sweet & sour cooked with lentils & pineapples
Medium to hot
£5.70
Dansak Cauliflower
Sweet & sour cooked with lentils & pineapples
Medium to hot
£5.70
Dansak Mixed
Sweet & sour cooked with lentils & pineapples
Medium to hot
£6.50
Dansak Chicken Tikka
Sweet & sour cooked with lentils & pineapples
Medium to hot
£7.50
Samber Chicken
Cooked with lentils & fresh lemons
Medium to hot
£6.20
Samber Lamb
Cooked with lentils & fresh lemons
Medium to hot
£6.20
Samber Beef
Cooked with lentils & fresh lemons
Medium to hot
£6.20
Samber Keema
Cooked with lentils & fresh lemons
Medium to hot
£6.20
Samber Prawn
Cooked with lentils & fresh lemons
Medium to hot
£6.80
Samber King Prawn
Cooked with lentils & fresh lemons
Medium to hot
£8.00
Samber Mixed Vegetable
Cooked with lentils & fresh lemons
Medium to hot
£5.70
Samber Mushroom
Cooked with lentils & fresh lemons
Medium to hot
£5.70
Samber Cauliflower
Cooked with lentils & fresh lemons
Medium to hot
£5.70
Samber Mixed
Cooked with lentils & fresh lemons
Medium to hot
£6.50
Samber Chicken Tikka
Cooked with lentils & fresh lemons
Medium to hot
£7.50
Vindaloo Chicken
Cooked with very hot spices to give a sharp rich taste
Very hot
£6.20
Vindaloo Lamb
Cooked with very hot spices to give a sharp rich taste
Very hot
£6.20
Vindaloo Beef
Cooked with very hot spices to give a sharp rich taste
Very hot
£6.20
Vindaloo Keema
Cooked with very hot spices to give a sharp rich taste
Very hot
£6.20
Vindaloo Prawn
Cooked with very hot spices to give a sharp rich taste
Very hot
£6.80
Vindaloo King Prawn
Cooked with very hot spices to give a sharp rich taste
Very hot
£8.00
Vindaloo Mixed Vegetable
Cooked with very hot spices to give a sharp rich taste
Very hot
£5.70
Vindaloo Mushroom
Cooked with very hot spices to give a sharp rich taste
Very hot
£5.70
Vindaloo Cauliflower
Cooked with very hot spices to give a sharp rich taste
Very hot
£5.70
Vindaloo Mixed
Cooked with very hot spices to give a sharp rich taste
Very hot
£6.50
Vindaloo Chicken Tikka
Cooked with very hot spices to give a sharp rich taste
Very hot
£7.50
Jalfrezi Chicken
Cooked with garlic, green chillies & onions in a spicy special sauce
Hot
£6.20
Jalfrezi Lamb
Cooked with garlic, green chillies & onions in a spicy special sauce
Hot
£6.20
Jalfrezi Beef
Cooked with garlic, green chillies & onions in a spicy special sauce
Hot
£6.20
Jalfrezi Keema
Cooked with garlic, green chillies & onions in a spicy special sauce
Hot
£6.20
Jalfrezi Prawn
Cooked with garlic, green chillies & onions in a spicy special sauce
Hot
£6.80
Jalfrezi King Prawn
Cooked with garlic, green chillies & onions in a spicy special sauce
Hot
£8.00
Jalfrezi Mixed Vegetable
Cooked with garlic, green chillies & onions in a spicy special sauce
Hot
£5.70
Jalfrezi Mushroom
Cooked with garlic, green chillies & onions in a spicy special sauce
Hot
£5.70
Jalfrezi Cauliflower
Cooked with garlic, green chillies & onions in a spicy special sauce
Hot
£5.70
Jalfrezi Mixed
Cooked with garlic, green chillies & onions in a spicy special sauce
Hot
£6.50
Jalfrezi Chicken Tikka
Cooked with garlic, green chillies & onions in a spicy special sauce
Hot
£7.50
Mughlai Chicken
Cooked with egg yolk, cream & mild to medium special sauce
Mild to medium
£6.20
Mughlai Lamb
Cooked with egg yolk, cream & mild to medium special sauce
Mild to medium
£6.20
Mughlai Beef
Cooked with egg yolk, cream & mild to medium special sauce
Mild to medium
£6.20
Mughlai Keema
Cooked with egg yolk, cream & mild to medium special sauce
Mild to medium
£6.20
Mughlai Prawn
Cooked with egg yolk, cream & mild to medium special sauce
Mild to medium
£6.80
Mughlai King Prawn
Cooked with egg yolk, cream & mild to medium special sauce
Mild to medium
£8.00
Mughlai Mixed Vegetable
Cooked with egg yolk, cream & mild to medium special sauce
Mild to medium
£5.70
Mughlai Mushroom
Cooked with egg yolk, cream & mild to medium special sauce
Mild to medium
£5.70
Mughlai Cauliflower
Cooked with egg yolk, cream & mild to medium special sauce
Mild to medium
£5.70
Mughlai Mixed
Cooked with egg yolk, cream & mild to medium special sauce
Mild to medium
£6.50
Mughlai Chicken Tikka
Cooked with egg yolk, cream & mild to medium special sauce
Mild to medium
£7.50
Rogan Josh Chicken
A Northern Indian dish cooked with medium hot spicy sauce & garnished with onions & tomatoes
Medium
£6.20
Rogan Josh Lamb
A Northern Indian dish cooked with medium hot spicy sauce & garnished with onions & tomatoes
Medium
£6.20
Rogan Josh Beef
A Northern Indian dish cooked with medium hot spicy sauce & garnished with onions & tomatoes
Medium
£6.20
Rogan Josh Keema
A Northern Indian dish cooked with medium hot spicy sauce & garnished with onions & tomatoes
Medium
£6.20
Rogan Josh Prawn
A Northern Indian dish cooked with medium hot spicy sauce & garnished with onions & tomatoes
Medium
£6.80
Rogan Josh King Prawn
A Northern Indian dish cooked with medium hot spicy sauce & garnished with onions & tomatoes
Medium
£8.00
Rogan Josh Mixed Vegetable
A Northern Indian dish cooked with medium hot spicy sauce & garnished with onions & tomatoes
Medium
£5.70
Rogan Josh Mushroom
A Northern Indian dish cooked with medium hot spicy sauce & garnished with onions & tomatoes
Medium
£5.70
Rogan Josh Cauliflower
A Northern Indian dish cooked with medium hot spicy sauce & garnished with onions & tomatoes
Medium
£5.70
Rogan Josh Mixed
A Northern Indian dish cooked with medium hot spicy sauce & garnished with onions & tomatoes
Medium
£6.50
Rogan Josh Chicken Tikka
A Northern Indian dish cooked with medium hot spicy sauce & garnished with onions & tomatoes
Medium
£7.50
Pasanda Chicken
A rich cream masala dish
Mild to medium
£6.20
Pasanda Lamb
A rich cream masala dish
Mild to medium
£6.20
Pasanda Beef
A rich cream masala dish
Mild to medium
£6.20
Pasanda Keema
A rich cream masala dish
Mild to medium
£6.20
Pasanda Prawn
A rich cream masala dish
Mild to medium
£6.80
Pasanda King Prawn
A rich cream masala dish
Mild to medium
£8.00
Pasanda Mixed Vegetable
A rich cream masala dish
Mild to medium
£5.70
Pasanda Mushroom
A rich cream masala dish
Mild to medium
£5.70
Pasanda Cauliflower
A rich cream masala dish
Mild to medium
£5.70
Pasanda Mixed
A rich cream masala dish
Mild to medium
£6.50
Pasanda Chicken Tikka
A rich cream masala dish
Mild to medium
£7.50
Malaya Chicken
Cooked with bananas, coconut & cream
Mild to medium
£6.20
Malaya Lamb
Cooked with bananas, coconut & cream
Mild to medium
£6.20
Malaya Beef
Cooked with bananas, coconut & cream
Mild to medium
£6.20
Malaya Keema
Cooked with bananas, coconut & cream
Mild to medium
£6.20
Malaya Prawn
Cooked with bananas, coconut & cream
Mild to medium
£6.80
Malaya King Prawn
Cooked with bananas, coconut & cream
Mild to medium
£8.00
Malaya Mixed Vegetable
Cooked with bananas, coconut & cream
Mild to medium
£5.70
Malaya Mushroom
Cooked with bananas, coconut & cream
Mild to medium
£5.70
Malaya Cauliflower
Cooked with bananas, coconut & cream
Mild to medium
£5.70
Malaya Mixed
Cooked with bananas, coconut & cream
Mild to medium
£6.50
Malaya Chicken Tikka
Cooked with bananas, coconut & cream
Mild to medium
£7.50
Jahangri Chicken
Cooked with bamboo shoots & tomatoes
Medium
£6.20
Jahangri Lamb
Cooked with bamboo shoots & tomatoes
Medium
£6.20
Jahangri Beef
Cooked with bamboo shoots & tomatoes
Medium
£6.20
Jahangri Keema
Cooked with bamboo shoots & tomatoes
Medium
£6.20
Jahangri Prawn
Cooked with bamboo shoots & tomatoes
Medium
£6.80
Jahangri King Prawn
Cooked with bamboo shoots & tomatoes
Medium
£8.00
Jahangri Mixed Vegetable
Cooked with bamboo shoots & tomatoes
Medium
£5.70
Jahangri Mushroom
Cooked with bamboo shoots & tomatoes
Medium
£5.70
Jahangri Cauliflower
Cooked with bamboo shoots & tomatoes
Medium
£5.70
Jahangri Mixed
Cooked with bamboo shoots & tomatoes
Medium
£6.50
Jahangri Chicken Tikka
Cooked with bamboo shoots & tomatoes
Medium
£7.50
Madras Chicken
Cooked with fairly hot spices
Medium to hot
£6.20
Madras Lamb
Cooked with fairly hot spices
Medium to hot
£6.20
Madras Beef
Cooked with fairly hot spices
Medium to hot
£6.20
Madras Keema
Cooked with fairly hot spices
Medium to hot
£6.20
Madras Prawn
Cooked with fairly hot spices
Medium to hot
£6.80
Madras King Prawn
Cooked with fairly hot spices
Medium to hot
£8.00
Madras Mixed Vegetable
Cooked with fairly hot spices
Medium to hot
£5.70
Madras Mushroom
Cooked with fairly hot spices
Medium to hot
£5.70
Madras Cauliflower
Cooked with fairly hot spices
Medium to hot
£5.70
Madras Mixed
Cooked with fairly hot spices
Medium to hot
£6.50
Madras Chicken Tikka
Cooked with fairly hot spices
Medium to hot
£7.50
Dopiaza Chicken
Cooked with roasted onions
Medium to hot
£6.20
Dopiaza Lamb
Cooked with roasted onions
Medium to hot
£6.20
Dopiaza Beef
Cooked with roasted onions
Medium to hot
£6.20
Dopiaza Keema
Cooked with roasted onions
Medium to hot
£6.20
Dopiaza Prawn
Cooked with roasted onions
Medium to hot
£6.80
Dopiaza King Prawn
Cooked with roasted onions
Medium to hot
£8.00
Dopiaza Mixed Vegetable
Cooked with roasted onions
Medium to hot
£5.70
Dopiaza Mushroom
Cooked with roasted onions
Medium to hot
£5.70
Dopiaza Cauliflower
Cooked with roasted onions
Medium to hot
£5.70
Dopiaza Mixed
Cooked with roasted onions
Medium to hot
£6.50
Dopiaza Chicken Tikka
Cooked with roasted onions
Medium to hot
£7.50
Balti Chicken
Cooked in balti sauce with green capsicum & tomatoes
Medium to hot
£6.20
Balti Lamb
Cooked in balti sauce with green capsicum & tomatoes
Medium to hot
£6.20
Balti Beef
Cooked in balti sauce with green capsicum & tomatoes
Medium to hot
£6.20
Balti Keema
Cooked in balti sauce with green capsicum & tomatoes
Medium to hot
£6.20
Balti Prawn
Cooked in balti sauce with green capsicum & tomatoes
Medium to hot
£6.80
Balti King Prawn
Cooked in balti sauce with green capsicum & tomatoes
Medium to hot
£8.00
Balti Mixed Vegetable
Cooked in balti sauce with green capsicum & tomatoes
Medium to hot
£5.70
Balti Mushroom
Cooked in balti sauce with green capsicum & tomatoes
Medium to hot
£5.70
Balti Cauliflower
Cooked in balti sauce with green capsicum & tomatoes
Medium to hot
£5.70
Balti Mixed
Cooked in balti sauce with green capsicum & tomatoes
Medium to hot
£6.50
Balti Chicken Tikka
Cooked in balti sauce with green capsicum & tomatoes
Medium to hot
£7.50
Kashmiri Chicken
Cooked with lychees & medium spices
Medium
£6.20
Kashmiri Lamb
Cooked with lychees & medium spices
Medium
£6.20
Kashmiri Beef
Cooked with lychees & medium spices
Medium
£6.20
Kashmiri Keema
Cooked with lychees & medium spices
Medium
£6.20
Kashmiri Prawn
Cooked with lychees & medium spices
Medium
£6.80
Kashmiri King Prawn
Cooked with lychees & medium spices
Medium
£8.00
Kashmiri Mixed Vegetable
Cooked with lychees & medium spices
Medium
£5.70
Kashmiri Mushroom
Cooked with lychees & medium spices
Medium
£5.70
Kashmiri Cauliflower
Cooked with lychees & medium spices
Medium
£5.70
Kashmiri Mixed
Cooked with lychees & medium spices
Medium
£6.50
Kashmiri Chicken Tikka
Cooked with lychees & medium spices
Medium
£7.50
Bhuna Chicken
Cooked with onions, capsicum, herbs & spices
Medium to hot
£6.20
Bhuna Lamb
Cooked with onions, capsicum, herbs & spices
Medium to hot
£6.20
Bhuna Beef
Cooked with onions, capsicum, herbs & spices
Medium to hot
£6.20
Bhuna Keema
Cooked with onions, capsicum, herbs & spices
Medium to hot
£6.20
Bhuna Prawn
Cooked with onions, capsicum, herbs & spices
Medium to hot
£6.80
Bhuna King Prawn
Cooked with onions, capsicum, herbs & spices
Medium to hot
£8.00
Bhuna Mixed Vegetable
Cooked with onions, capsicum, herbs & spices
Medium to hot
£5.70
Bhuna Mushroom
Cooked with onions, capsicum, herbs & spices
Medium to hot
£5.70
Bhuna Cauliflower
Cooked with onions, capsicum, herbs & spices
Medium to hot
£5.70
Bhuna Mixed
Cooked with onions, capsicum, herbs & spices
Medium to hot
£6.50
Bhuna Chicken Tikka
Cooked with onions, capsicum, herbs & spices
Medium to hot
£7.50
Contact Us
Find Us
73 Wensley Road, Blackburn, BB21QA
We deliver to
BB1, BB2, BB3, BB5, PR5, PR6